Admissions procedure for International School of Bergamo
The International School of Bergamo serves a diverse community of students from a range of nationalities, cultures and backgrounds. We offer a broad based education which uses English as the main language of learning and caters for a range of student abilities. The school is officially an IB World School that has adopted a set of core values that guide every feature of the educational provision and is explicitly committed to the full implementation of the International Baccalaureate.
If places are available, students who fulfill our admissions criteria may be admitted at any time during the academic year at the discretion of the SMT.
Current ISB families are given priority in re-registering their children for the new school year.
Families of students seeking admission to ISB should contact the school to arrange an appointment with the Senior Management Team. The purpose of this meeting is for parents to become informed about the school (its core values and its educational programme).
In some cases, and necessarily for all students applying after Grade 7, the school may carry out a formal assessment of the student in order to determine grade placement or to decide on appropriate learning or behavioural support.
Once an offer of a place is made, it is confirmed at the moment the student's family signs the official registration form and the school accepts payment for the admission fee. At this moment parents should be particularly aware of the commitments they are making towards the school.
Age – We usually place students in the grade appropriate to their age, seeking to differentiate for their individual needs within this context. The school policy on the age of admissions aligns with the calendar year (January-December) rather than the school year. However, for children admitted from other schools we also consider their previous school experiences and reports.
Assessment - We always base admission on academic records as well as the student's proficiency in the English language. Students applying to the school after Grade 7 will be asked to undergo an assessment in Maths, English and Italian* (*only for native Italians). This may also apply to children entering from Grade 3 onwards, depending on academic records.
Language - Students may be admitted regardless of their ability in English up to Grade 3 and EAL provision will be made available by the school. Students transferring into Grade 3 or onwards will be expected to have a satisfactory level of English or the family may be expected to fund appropriate individual support at additional expense.
Special Educational Needs - We expect parents to inform us of any previously identified special needs or previously received support at the time of application. In some cases, parents may be asked to commit to providing extra support for their child, which may take the form of in-class support or out of school provision. The school cannot usually meet the needs of students with severe difficulties including autism.
Class assignment 2023-2024
EARLY YEARS
Pre-K: children from 24 months of age.
Kindergarten: children born in 2020
Transition: children born in 2019
ELEMENTARY SCHOOL
Grade 1: children born in 2018
Grade 2: children born in 2017
Grade 3: children born in 2016
Grade 4: children born in 2015
Grade 5: children born in 2014
Grade 6: children born in 2013
MIDDLE SCHOOL
Grade 7: students born in 2012
Grade 8: students born in 2011
Grade 9: students born in 2010
HIGH SCHOOL
Grade 10: students born in 2009
Grade 11: students born in 2008
Grade 12: students born in 2007
Grade 13: students born in 2006
Image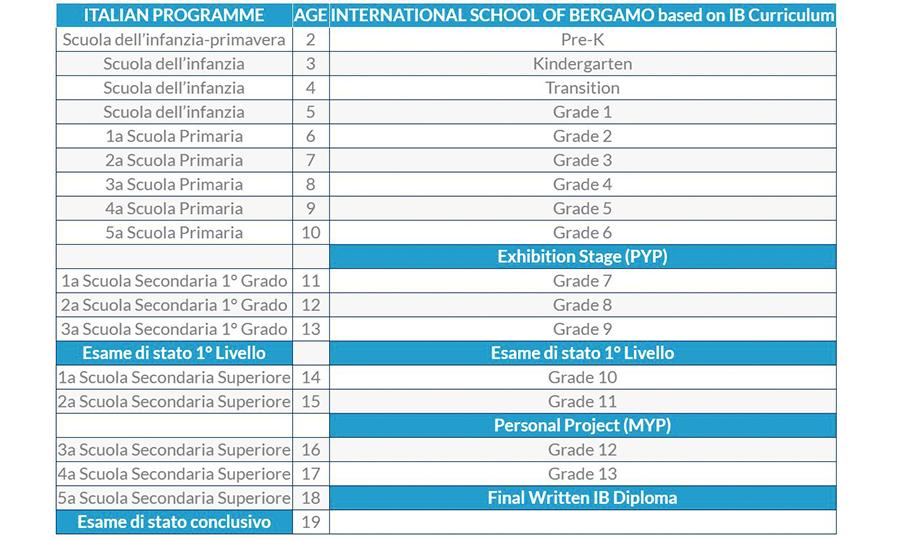 Image