Se ascolto dimentico
Se vedo ricordo
Se faccio capisco.
BRUNO MUNARI METHODOLOGY® ART LABORATORY
The International School of Bergamo is the only school in Bergamo to host a permanent Bruno Munari methodology® art laboratory.

Bruno Munari has always admired the world of children. In his career as artist, designer and writer, he has tried to understand the world as children see it. His belief was that, what children will retain today, will form their character tomorrow. His laboratories stem from this belief, that play is a serious issue. Based on the theory of 'learning by doing', Bruno Munari methodology workshops teach children the instruments and techniques, but do not tell them what to do.
The creative labs follow these steps:
Instruments and techniques;
HOW TO DO IT
Practice and experiment;
TRY AND DO IT
Practical application
WHAT CAN I DO?

The workshops aim to develop structured creativity, where the rules of the game are established only in terms of techniques to be used. Creativity can be expressed freely within the activities.
Workshops are held weekly throughout the whole school by Monica Moretti, an external specialist entitled to hold didactical workshops based on this methodology. (www.brunomunari.it)
Image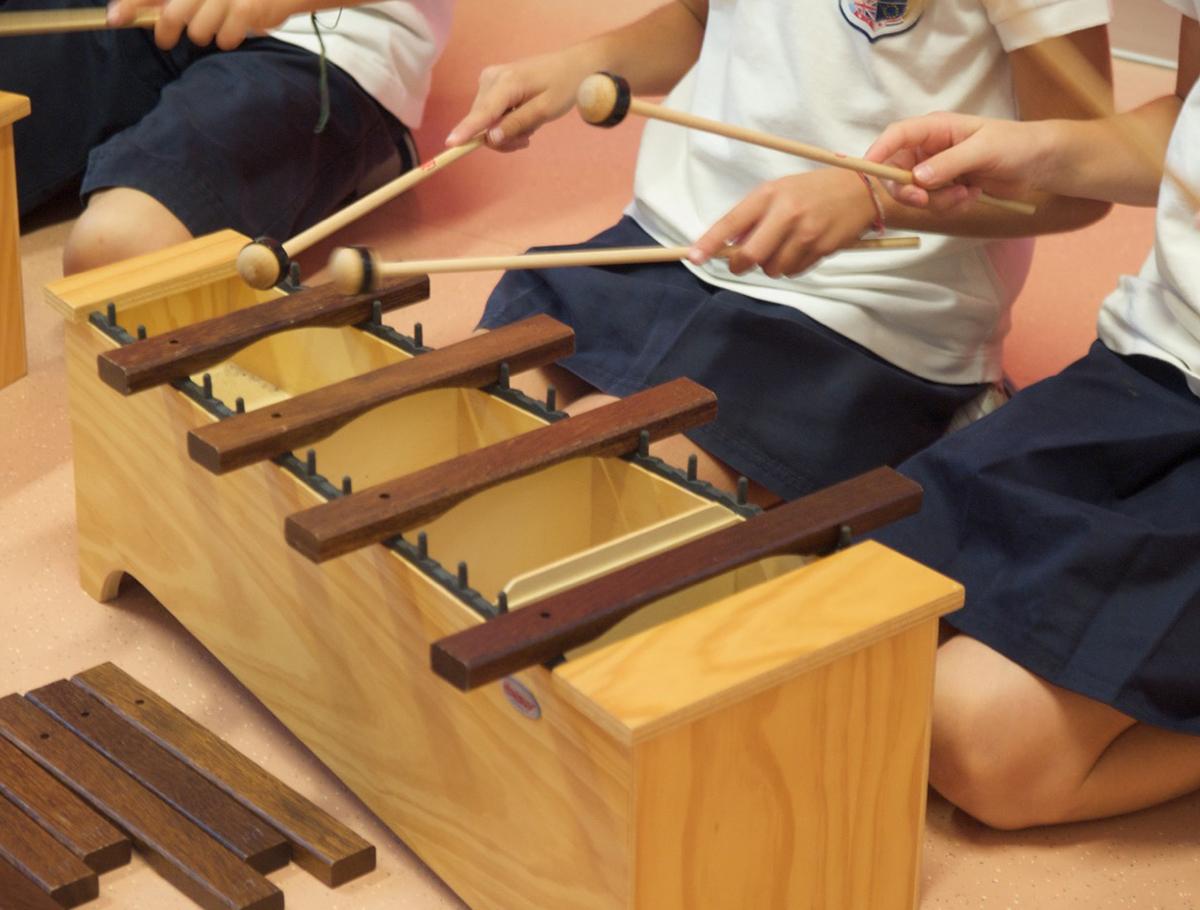 THE MUSIC PROGRAMME
Orff-Schulwerk is an internationally accepted approach to musically educating children in a group setting. Since 2017, ISBergamo is officially an Associate School of the International Orff Schulwerk Forum Salzburg.
Within an Orff music class, all facets of expressing, creating, and performing music are integrated. The elements of music - melody, rhythm, form, texture, and harmony- are always at the forefront of carefully planned lessons.

Orff involves many things that children like to do: sing, chant, play games, dance, move, dramatize, improvise, and play unpitched and pitched percussion instruments. It is when these elements are combined in a group experience that the true magic of Orff unfolds. This 'hands-on' approach is based on the idea that children learn best by doing. The elements of music are less abstract to child when he or she is actively engaged in creating and performing the music.
Orff is child-centered and based on the premise that experience precedes conceptual learning.
At ISBergamo, all children in the Early Years and Elementary school follow this methodology with a music specialist, Virginia Longo.
DRAMA @ ISB
Young children naturally explore their world through dramatic play, taking roles, acting out situations through cooperative play, in order to learn about their world, about themselves and especially about human nature.
In the early years, learning through process drama links naturally with the preferred learning styles of children and is thereby integrated as an important part of the curriculum. In the MYP, Drama plays an important role in the performing arts curriculum and, through this, students become more aware of their own artistic development and the role that arts play in their lives and in the world.
All the children in the school take part in important performances during the school year.
Image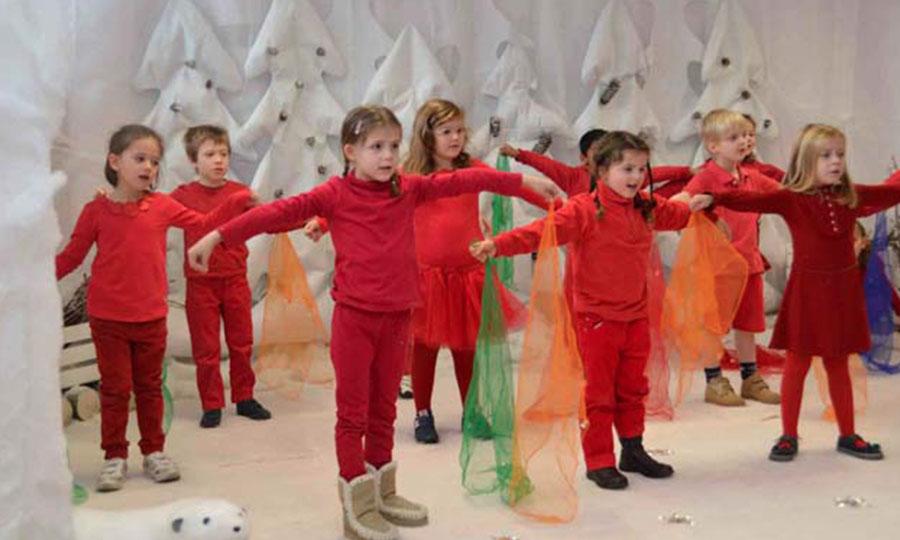 Image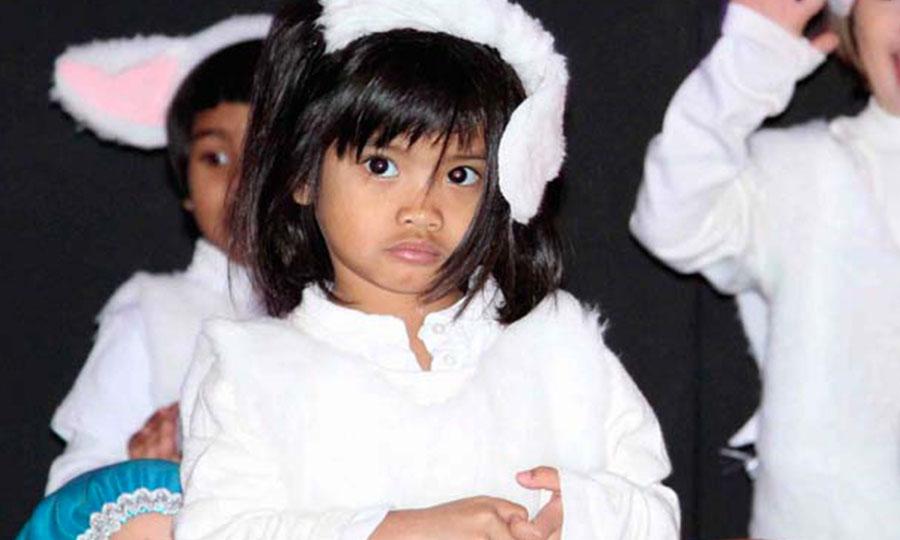 Image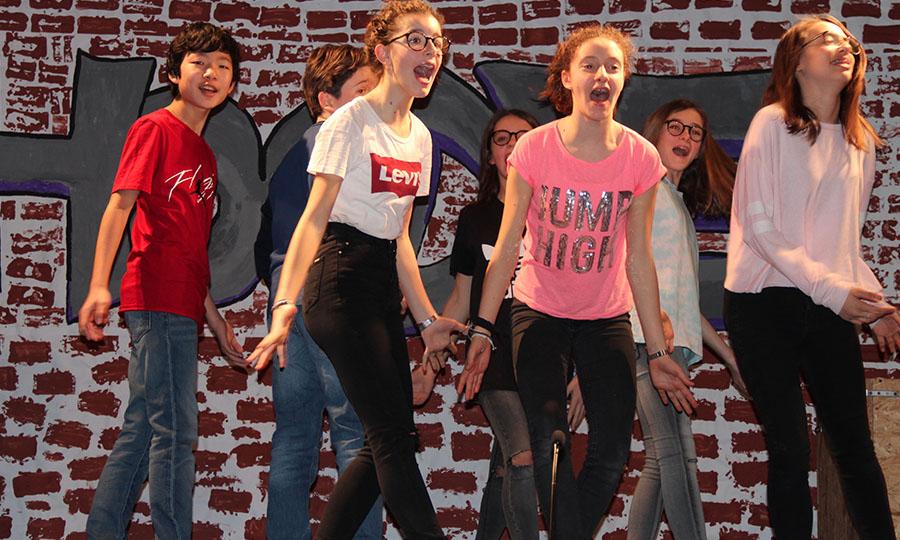 Image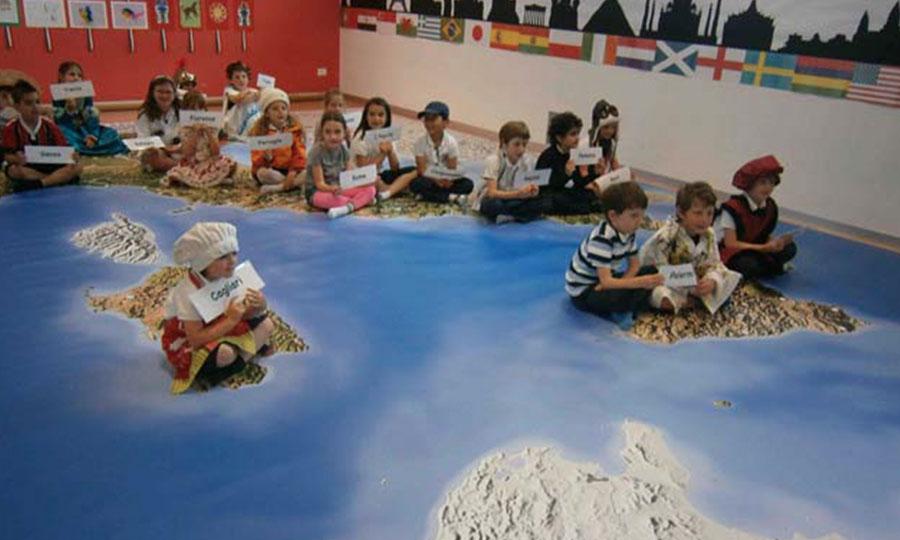 THE SCHOOL TAKES PARTS IN SEVERAL PROJECTS LINKED TO THE WORLD OF THE ARTS.
2015 HOMAGE TO YAYOI KUSAMA
In 1865 Lewis Caroll wrote "Alice's Adventures in Wonderland". 150 years later the world is celebrating this masterpiece and in London the British Library is presenting different versions of the novel illustrated by famous artists such as Leonard Weisgard and Dalì….
In 2012 Yayoi Kusama, a famous Japanese contemporary artist illustrated a modern version of this famous novel by Lewis Caroll. Kusama is a Japanese artist born in 1929… Since childhood, Kusama has had a rare condition that makes her see colorful spots on everything she looks at. Her vibrant artwork becomes an exquisite embodiment of Carroll's story and his fascination with the extraordinary way in which children see and explore the ordinary world.
The project has been the star of the 2015 Christmas Production, where our children sang, danced, and acted marvelously. The have worked hard on the show preparations, making props and practicing for the show.
The project has been the star of the 2015 Christmas Production, where our children sang, danced, and acted marvelously. The have worked hard on the show preparations, making props and practicing for the show.
PINKSIE 2013-2014
27 CONTEMPORARY ARTISTS, 500 CHILDREN FROM 6 SCHOOLS IN BERGAMO, TOGETHER TO CELEBRATE THE VALUE OF DIVERSITY, THROUGH AN ART EXHIBITION IN GAMeC (Gallery of Modern and Contemporary Art) AND AN AUCTION HOSTED BY SOTHEBY'S IN FAVOUR OF CAF CHARITY.
Pinksie the Whale is an international project born in London in 2012. Through art, imagination and creativity, the Pinksie Project celebrates the value of diversity.
In 2013-2014 ISBergamo promoted the Pinksie Project in Bergamo by coordinating labs with italian and international artists throughout 6 schools in the Bergamo area: Stefano Arienti, Matthew Attard, Simona Barzaghi, Simone Berti, Mariella Bettineschi, Rosaspina Buscarino, Alessandro Busci, Federica De Luca, Salvatore Falci, Flavio Favelli, Silva Felci, Ferdinando Ferrario, Angela Flowers, Giovanni Fornoni, Patrizia Fratus, Carlo Gavazzeni, Katia Greco, Edy Gree, Camilla Marinoni, Andrea Mastrovito, Paolo Nobile, Renzo Nucara, Erik Saglia, Giuseppe Stampone, Laura Suardi, Olga Vanoncini, Carla Volpati, Sergio Zanoli.
All labs organised between March and May 2014 have then given life to an exhibition in GAMeC where the works of the artists and children have been exposed for a week in September 2014. A very special auction, held by Sotheby's Italia, has raised money for the CAF charity, in favour of families in distress.
For more information:
www.ecodibergamo.it
Image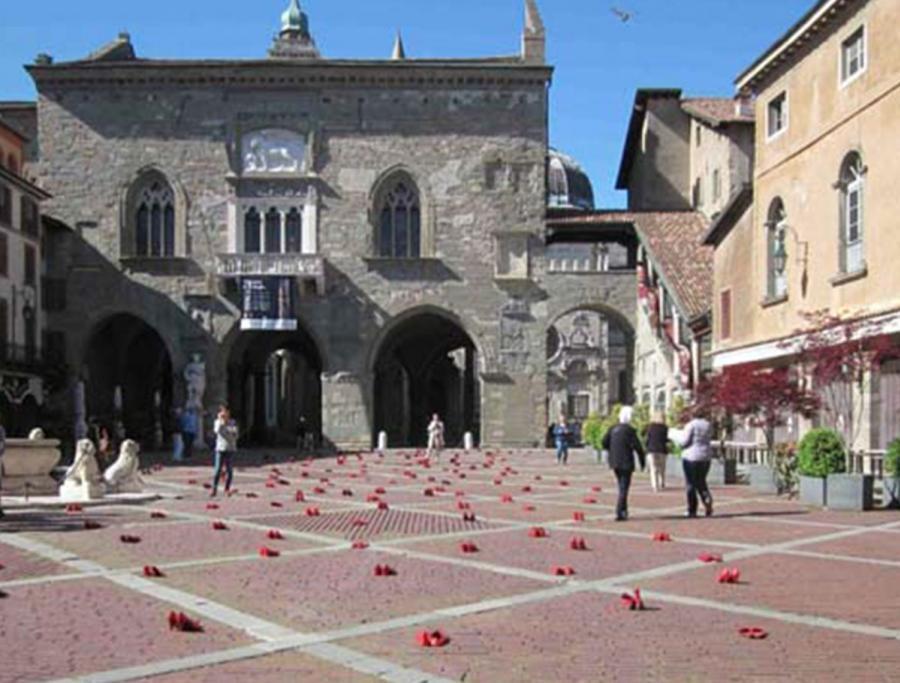 ZAPATOS ROJOS 2013
Zapatos Rojos is an international project for the elimination of violence against women.
The project was hosted in Bergamo in 2013. ISBergamo took part in project concentrating with the children on the positive values of friendship, respect and trust.
Image
GIUSEPPE STAMPONE Exhibition 2014
In his exhibition Ritratti - Bic Data Blu presented at the GAMeC Museum in Bergamo in June/July 2014, as part of his project 'L'ABC dell 'Arte', Giuseppe Stampone worked on the initial approach to art by young children by producing a 20minute video with some Transition-Grade 2 children from ISB.
Image
Tutti pazzi per Malevič 2015
The school is part of a fantastic project in collaboration with the GAMeC Museum in Bergamo.
The whole school worked on the project in a transdisciplinary perspective.
2015... a suprematist year @ISB